Crispy Fried King Oyster Mushrooms is vegan comfort food at it's finest. These fried mushrooms are the vegan, plant-based equivalent to fried chicken. The king oyster mushrooms have a mild flavor and a juicy meaty texture, which make them a delicious vessel for crispy seasoned goodness.
The Home Baked Vegan's Crispy Fried Oyster Mushrooms are:
Vegan (as always, this means that no animal products are used in this recipe).
Deep Fried (if you don't have a deep fryer, do not worry – this recipe uses the stove top method).
Crispy
Crunchy
Flavourful
Delicious
When you are picking out your King Oyster Mushrooms for this recipe, look for large mushrooms with 'folded' caps, so the gills are exposed. Smaller mushrooms, like the one in the top right of this photo, will do just fine as well, but the larger mushrooms have a more uniform shape which makes them much easier to fry. Alternatively, you could cut the mushrooms lengthwise into halves or quarters.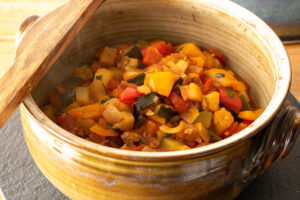 Here is the recipe for The Home Baked Vegan's Crispy Fried King Oyster Mushrooms:
Ingredients:
4 King Oyster Mushrooms
1/2 Cup All Purpose Flour
3 Tbsp Corn Starch
1 Tbsp Baking Powder
3/4 Cup Cold Water
1 Cup Whole Grain Flour
1 Tbsp Garlic Powder
1/2 tsp Ground Cumin
1/8 tsp Hot Chilli Powder
1/2 tsp Salt
1/2 tsp Ground Pepper
1/8 tsp Ground Mustard
1 tsp Oregano
~2 Cups Vegetable Oil (for frying)
Method:
In a medium bowl, mix together the All Purpose Flour, Corn Starch, Baking Powder.
Stir in the cold water, and mix until smooth; to create a batter.
In another medium bowl, mix together the Whole Grain Flour, Garlic Powder, Cumin, Chilli Powder, Salt, Ground Pepper, Ground Mustard, and Oregano.
Heat the oil in a medium or large skillet, over high heat. The oil should be at least 1/2″ deep, so depending on how large your skillet is, you may need to add more oil. (Alternatively, you could use a deep fryer instead of a skillet).
Coat each mushroom in the batter, then place it in the dry ingredients, and shake the bowl, or lightly roll the mushroom around until it is completely coated.
Place the mushroom in the hot oil. Let the mushroom cook for about 2 minutes or until golden brown, then flip and fry the other side for an additional 2 minutes – or until golden brown and crispy.
Remove the mushrooms from the pan, let cool slightly, and enjoy!
Love this recipe? Be sure to subscribe to receive updates and more delicious recipes from The Home Baked Vegan.