The Home Baked Vegan's recipe for Simple Chickpea Curry is perfect served with basmati rice, and a great meal to make on a cold winter day. I love how curry just warms you up – kind of like a big bowl of soup.
This recipe for Chickpea Curry is a simple, vegan curry, with no added oil. Use the Home Baked Vegan's recipe for Curry Powder, or if you're in a pinch, use whatever curry powder you already have on hand.
Here is The Home Baked Vegan's recipe for Simple Chickpea Curry: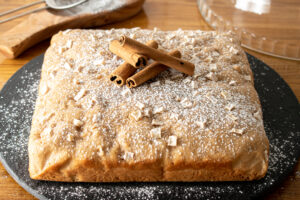 Ingredients:
1 Onion
4 Garlic Cloves
1/4 Cup Water
1 Tbsp Tomato Paste
2 Cups Canned Diced Tomatoes
2 Cups Chickpeas
1/4 tsp Salt
1/2 Cup Cashew Milk
Method:
Dice the onion and garlic cloves.
In a large deep skillet, sautee the onion and garlic, using just a splash of water if they start to stick to the pan. Cook until the onions are transparent.
Add the water and curry powder to the skillet, and stir until the powder turns to paste and coats the onions.
Stir in the tomato paste, then add diced tomatoes, chickpeas, and salt.
Bring just to a boil, while stirring constantly, then reduce to a simmer.
Let simmer for 1 hour.
Stir in the cashew milk then remove from heat.
Serve with rice or naan bread. Enjoy!