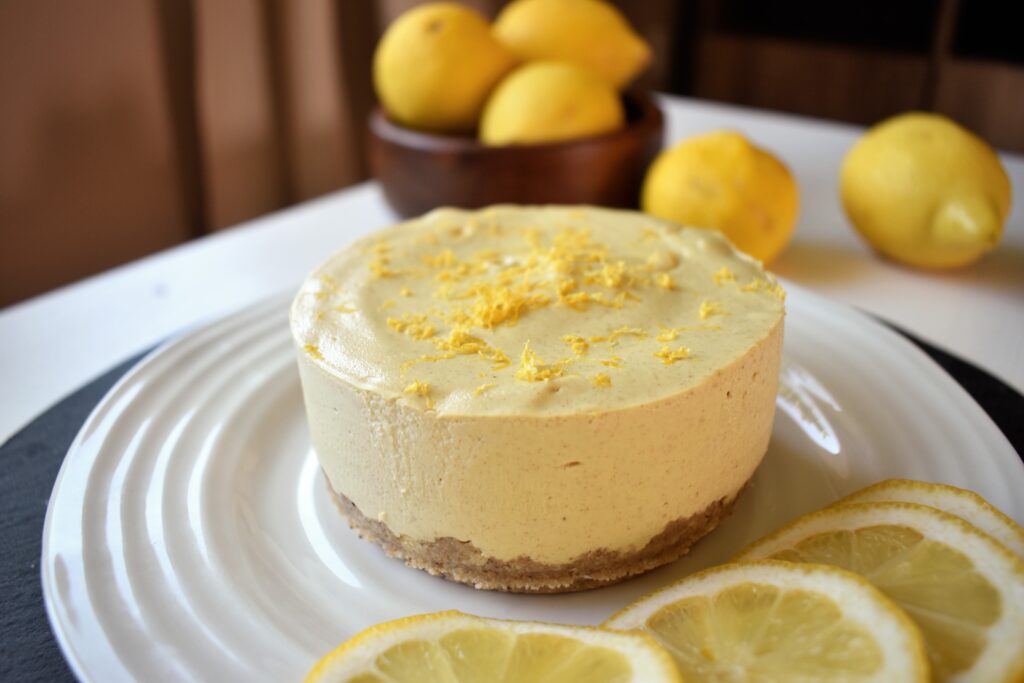 I have been wanting to make a Lemon No Bake Vegan Cake for months, but for some reason it has taken me up until now to actually get to it. I love lemon flavored desserts like this gluten free lemon meringue pie, and you may notice if you do a quick search for "lemon" in the search bar on the blog, you will find a lot more lemon flavored desserts as well. There is something extra special about lemon desserts, almost like no matter how creamy and rich they are, every bite still has this sense of refreshment. My favorite treats of all are sour sweets – so citrus desserts are always a winner in my books!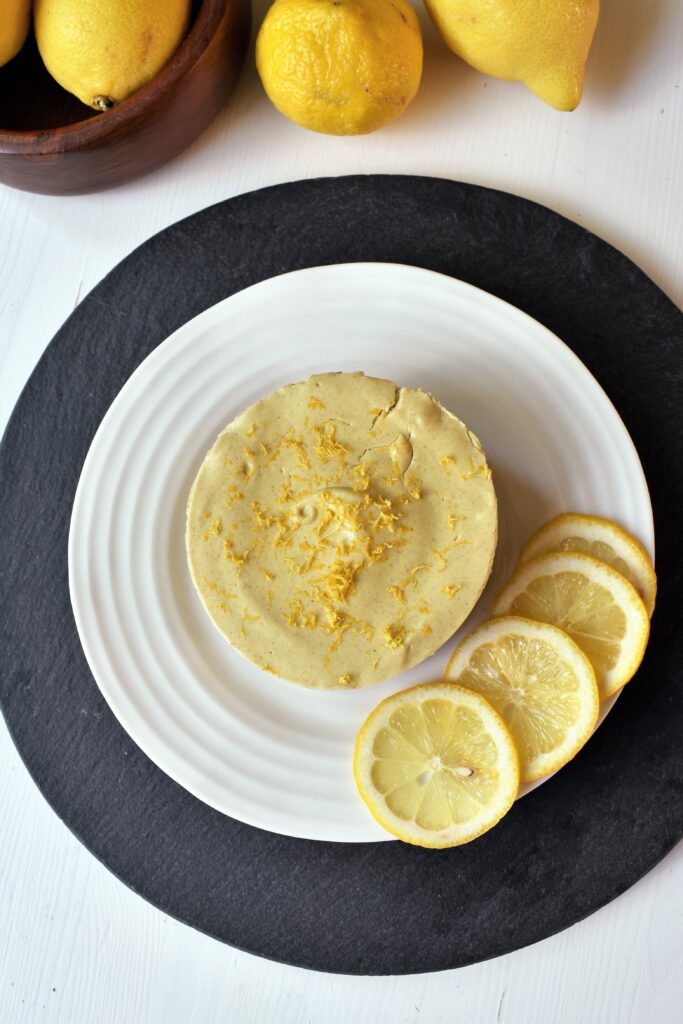 Ingredients in Gluten Free Vegan Lemon Cake:
I think it goes without saying that lemon is a key ingredient in this no-bake lemon cake, so if you can, use fresh squeezed lemon juice, but lemon juice from a bottle will also do the trick if need be.
I use cashews as a main ingredient in my no-bake cheesecakes, because they are creamy and mild in flavor. Use raw cashews if you can (roasted will be a bit grainier, and have a stronger nut flavor). I boil the cashews and dates in this recipe, mostly because I usually decide to make this dessert at the last minute, but you can soak the cashews and dates over night as well and skip the stove all together. The purpose of soaking or boiling the cashews, is to soften them up, so when you blend all the ingredients together, they become smooth and creamy. If you skip this step, you may end up with a slightly grainy texture.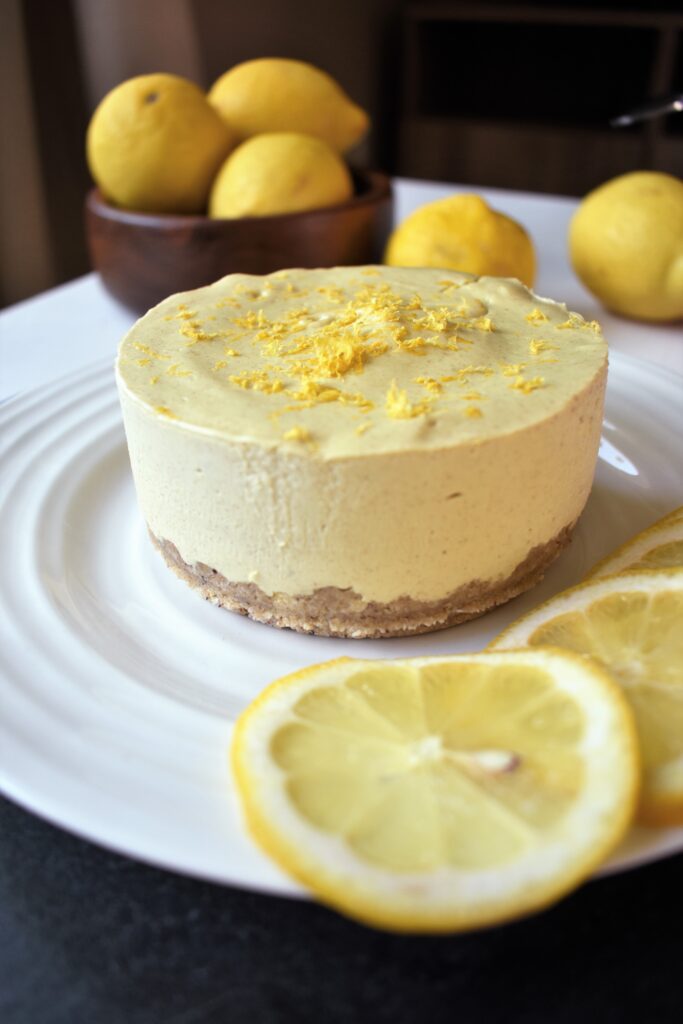 Yield: 12 Servings (1 Cake)
Gluten Free Lemon No-Bake Cake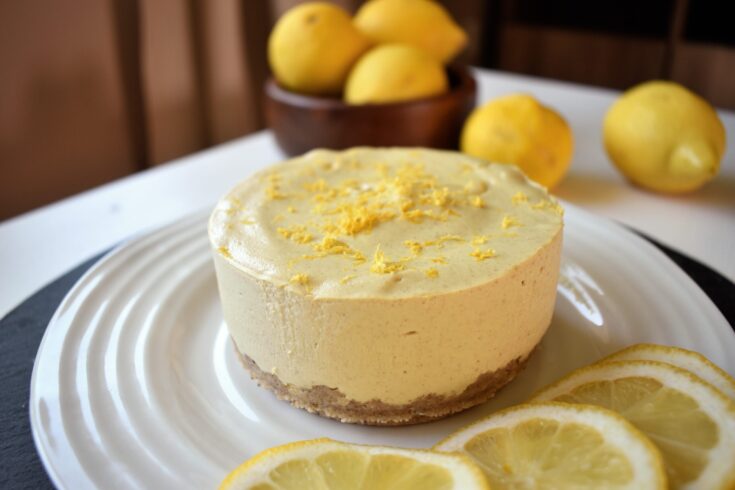 Gluten-free recipe for no-bake vegan cheesecake, made with cashews, and no refined sugar.
Total Time
2 hours
20 minutes
Ingredients
Crust
1 1/4 Cup Rolled Oats
1/2 Cup Shredded Coconut
1/4 Cup Coconut Oil, melted
Filling
3 Cups Cashews
1/2 Cup Dates
1  Cup Coconut Cream
3/4 Cups Lemon Juice
1 1/4 tsp Lemon Extract
1/2 tsp Vanilla Extract
3 Tbsp Agave Syrup (or Maple Syrup)
1/4 Cup Coconut Oil, Melted
1 tsp Lemon Zest plus more for garnish
1/4 tsp Ground Turmeric
Instructions
Prepare the Crust:
In a food processor or high powdered blender, blend together the rolled oats and shredded coconut. Transfer to a bowl, and stir in the coconut oil until combined.
Press into the bottom of a springform pan, and set aside.

Prepare the Filling
Boil the cashews and dates in a pot of water, for approximately 10 minutes.
Drain the cashews then add them to a food processor or high powered blender, and blend together with: Coconut Cream, Lemon Juice, Lemon Zest, Lemon Extract, Vanilla Extract, Dates, Agave Syrup, Coconut Oil, Turmeric. Blend until smooth.
Pour into the springform pan, and use a rubber spatula to smooth the top into an even layer.
Sprinkle with lemon zest for garnish.
Freeze the dessert for 2 - 3 hours, then transfer to the refrigerator to defrost before eating.
Store in the fridge to enjoy within 24 hours, or transfer back to the freezer in an airtight container for longer storage.
Nutrition Information:
Yield:
12
Serving Size:
1
Amount Per Serving:
Calories:

449
Total Fat:

30g
Saturated Fat:

15g
Trans Fat:

0g
Unsaturated Fat:

13g
Cholesterol:

0mg
Sodium:

243mg
Carbohydrates:

41g
Fiber:

3g
Sugar:

23g
Protein:

7g