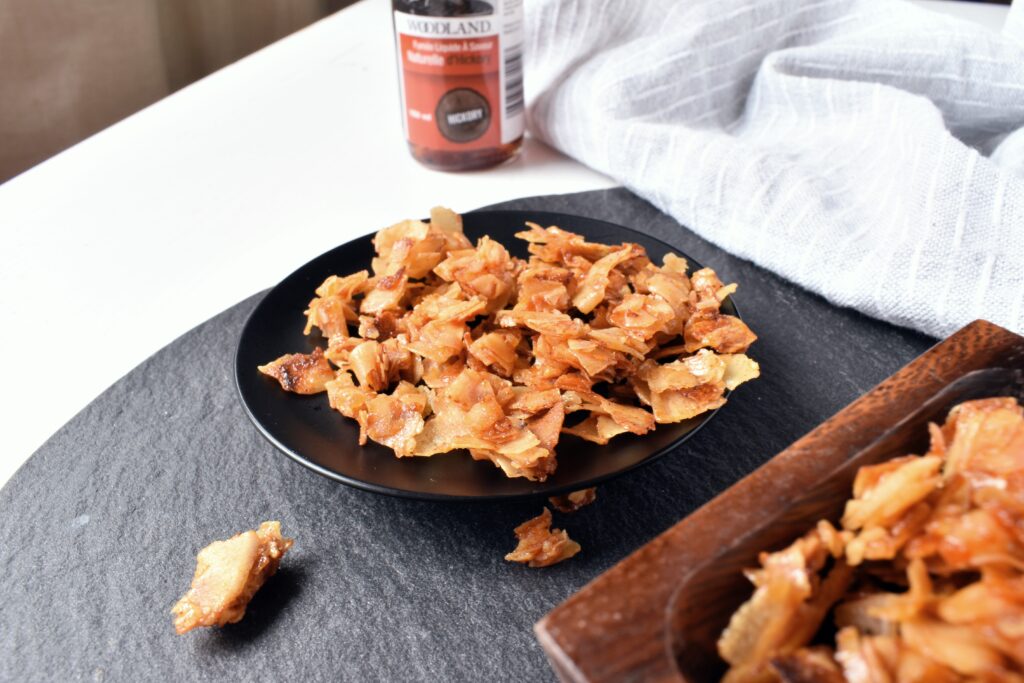 Vegan bacon sounds a bit like an oxymoron, but when you make it from plant based ingredients, it is far from it! Adding smoky, salty, maple flavor to vegan ingredients is really much easier than it first may seem. Coconut is one of the many plant based ingredients I have seen being made into vegan bacon (along with carrots, eggplant and even banana peels!), but with a tendency to lean towards the sweet side of things, I thought my first go at vegan bacon should be with coconut as it would be easier to incorporate into dessert dishes.
Even as I was contemplating how I would season my coconut bacon, I was already thinking about all the delicious sweet and salty bacon dessert combinations I could make… Check out this recipe for Vegan Butter Tarts made with coconut bacon!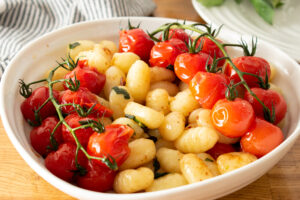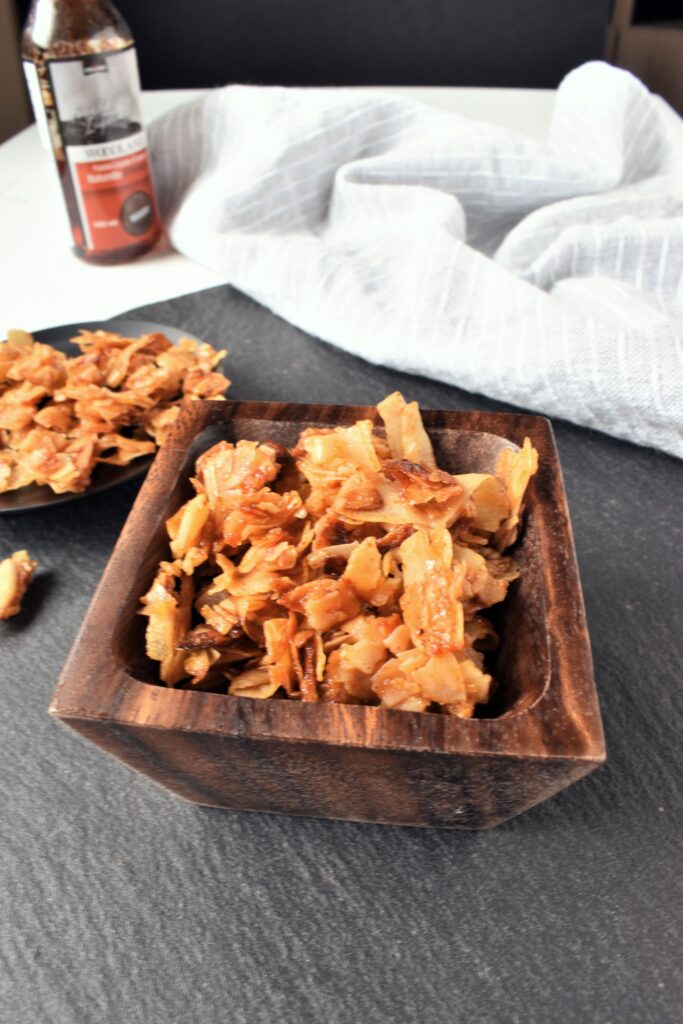 How to make vegan coconut bacon:
To make vegan bacon, I used large flaked coconut (shredded coconut will not give you the same bite-sized results). I coated it in a marinade of smoked paprika, salt, maple syrup and liquid smoke. You can find liquid smoke in most grocery stores next to the barbeque sauces.
Once the coconut was all coated, I cooked it on the stove top. I considered baking it, however coconut can burn very quickly if you are not watching closely. I heated it on high to get the sauce all heated up quickly and give it a chance to get tacky. Then I reduced the heat to low and let it cook off. I moved the coconut around almost constantly to make sure it wouldn't burn.
Once the coconut was no longer sticky, I removed it from the heat and let it cool completely. Once it was cool, it was nice and crisp, with a delicious smoky maple flavor.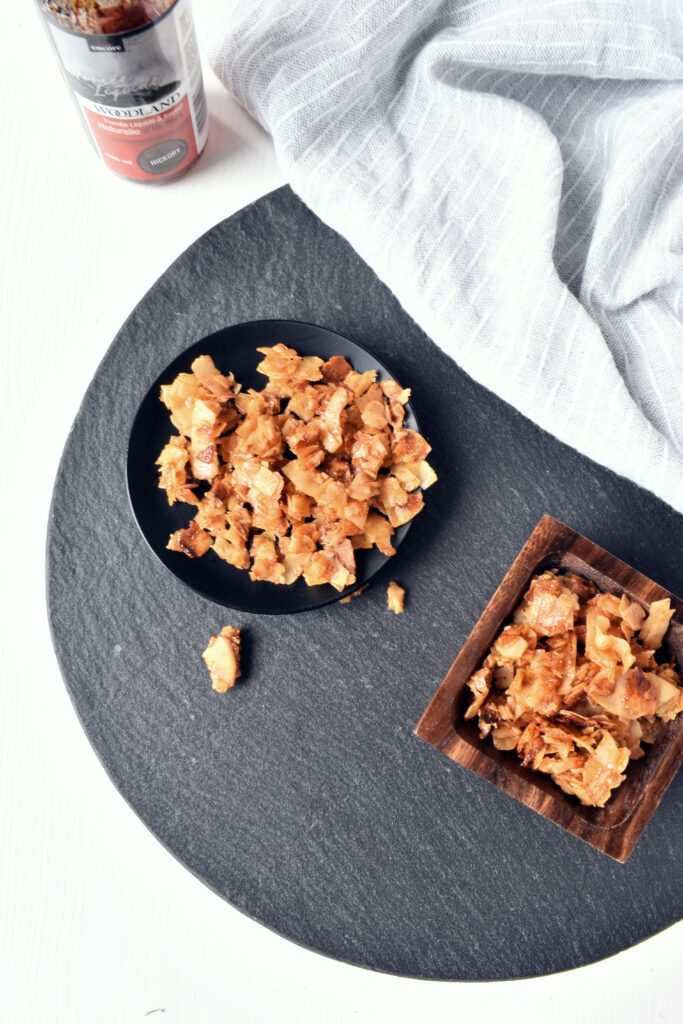 Yield: 1/2 Cup (1 Tbsp Servings: 8)
Smoky Coconut Vegan Bacon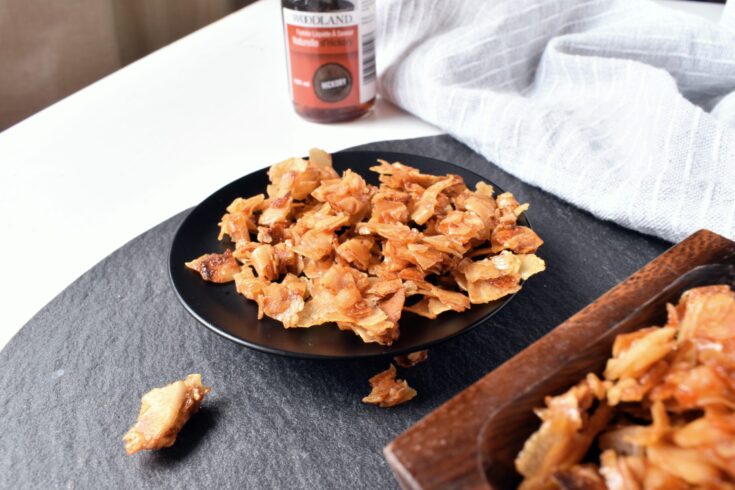 This vegan recipe for coconut bacon makes delicious bite sized pieces of plant based, smoky maple "bacon", perfect for snacking on or baking with.
Ingredients
1/2 Cup Large Flaked Coconut
1/4 tsp Liquid Smoke
1/2 tsp Smoked Paprika
1/2 tsp Salt
2 Tbsp Maple Syrup
Instructions
Mix together the maple syrup, liquid smoke, paprika, and salt.
Stir in the coconut flakes until they are all completely coated in the sauce.
Spread the coconut in a skillet, and heat over medium high heat. Cook for 3 minutes, stirring constantly.
Reduce heat to low, and cook, stirring often, until the coconut is no longer sticky.
Remove from the heat and let the coconut cool completely.
Nutrition Information:
Yield:
8
Serving Size:
1
Amount Per Serving:
Calories:

38
Total Fat:

2g
Saturated Fat:

1g
Trans Fat:

0g
Unsaturated Fat:

0g
Cholesterol:

0mg
Sodium:

161mg
Carbohydrates:

6g
Fiber:

1g
Sugar:

5g
Protein:

0g