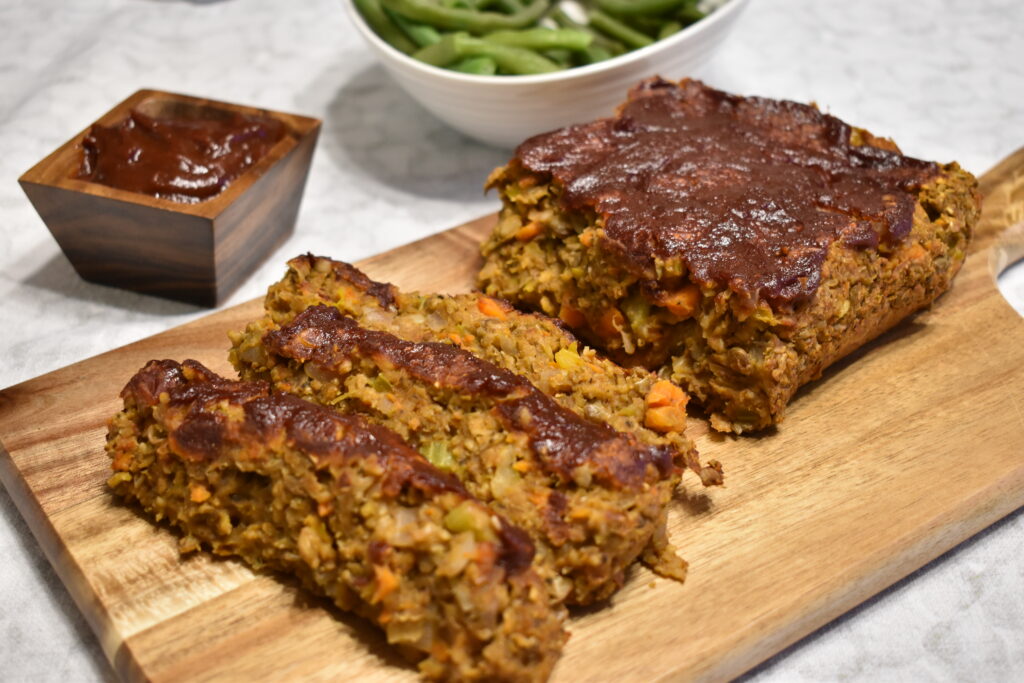 Vegan Lentil loaf is a perfect main dish for Sunday dinner! I was trying to decide what to make for dinner tonight when I decided to try something new. Lentil Loaf has been on my recipe radar for a while now; ever since my friend made one when they had us over for dinner several years ago. I figured today was as good a day as any to give it a go, so I got to work cooking down some green lentils. I was excited and a little skeptical about how it was going to turn out; but the lentil loaf turned out amazing. I am adding it to my mental list of favorite recipes that I need to have again. 
This recipe is made with green lentils and fresh vegetables. Lentil loaf is vegan, wheat free and nut free. If you are making this recipe gluten-free, be sure that you confirm your oats and vegan Worcestershire sauce is also gluten-free.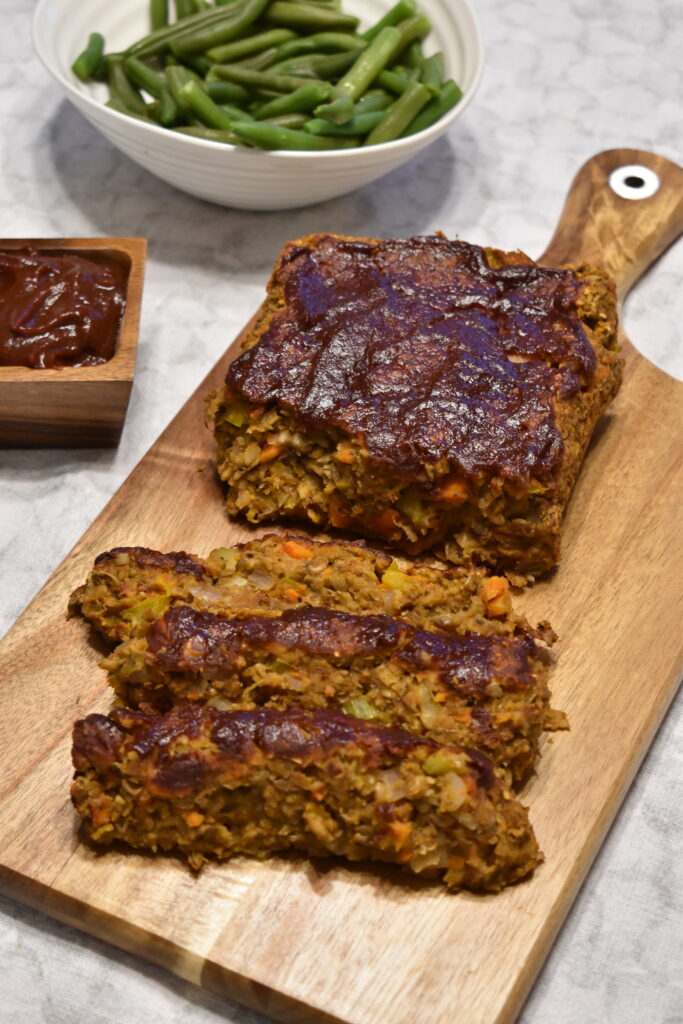 You might also like this:
Yield: 1 Loaf, 6 - 8 Servings
Vegan Lentil Loaf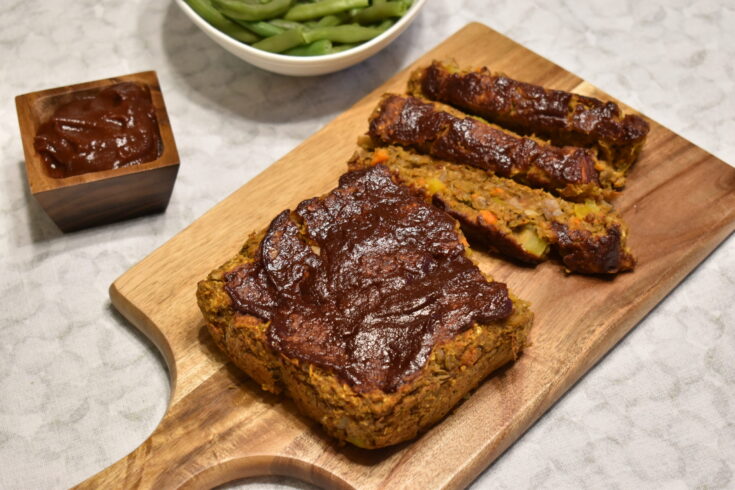 This gluten free vegan lentil loaf is made with green lentils and packed with vegetables.
Cook Time
1 hour
15 minutes
Total Time
1 hour
25 minutes
Ingredients
Loaf
1 Cup Dried Green Lentils
2 1/2 Cups Water
1 medium onion, diced
3-4 Garlic Cloves, minced
3/4 Cup Celery, diced 
3/4 Cup Carrots, peeled and diced
1 Bell Pepper
1 1/2 tsp Oregano
1 tsp Paprika
1 tsp Salt
1/4 tsp Ground Pepper
2 Tbsp Tomato Paste
1 Cup Gluten Free Oats
3 Tbsp Flax
Sauce Topping
2 Tbsp Worcestershire Sauce, Vegan, Gluten Free
2 Tbsp Tomato Paste
1 Tbsp Maple Syrup
Instructions
Bring lentils and water to a simmer in a medium saucepan. Cover, and let cook for 25 minutes, or until all the liquid is absorbed.
Sauté the onions and garlic in a large skillet, for approximately 3 minutes, until the onions are translucent.
Add the carrots, celery and peppers to the skillet and sauté for 2-3 more minutes.
Mix together the cooked lentils, vegetables, oregano, paprika, salt, pepper, tomato paste, oats, and flax.
Press the filling into a parchment lined loaf pan.
In a small bowl, mix together the ingredients for the Sauce Topping: Worcestershire sauce, Tomato Paste, and the maple syrup. Set aside.
Bake the loaf at 350°F for 30 minutes, then remove from oven and spread the Sauce Topping over the loaf. Return to the oven to bake for an additional 20 minutes.
Let the lentil loaf rest for 10 minutes before serving.
Nutrition Information:
Yield:
6
Serving Size:
1
Amount Per Serving:
Calories:

161
Total Fat:

3g
Saturated Fat:

0g
Trans Fat:

0g
Unsaturated Fat:

2g
Cholesterol:

0mg
Sodium:

480mg
Carbohydrates:

28g
Fiber:

7g
Sugar:

7g
Protein:

7g