The idea to make Vegan Shortbread Fudge Christmas Squares came to me when I was thinking about what dessert I might like to make for Christmas this year. I was thinking about different flavors and treats that I associate with the holidays, and when I first thought of shortbread, I knew I was going to make something with a shortbread cookie crust. I also reminisced about the vegan fudge truffles that I made a while ago (which were delicious). So naturally, Vegan Fudge was then added to the next layer. Which left candy canes, which felt like a must-have Christmas candy.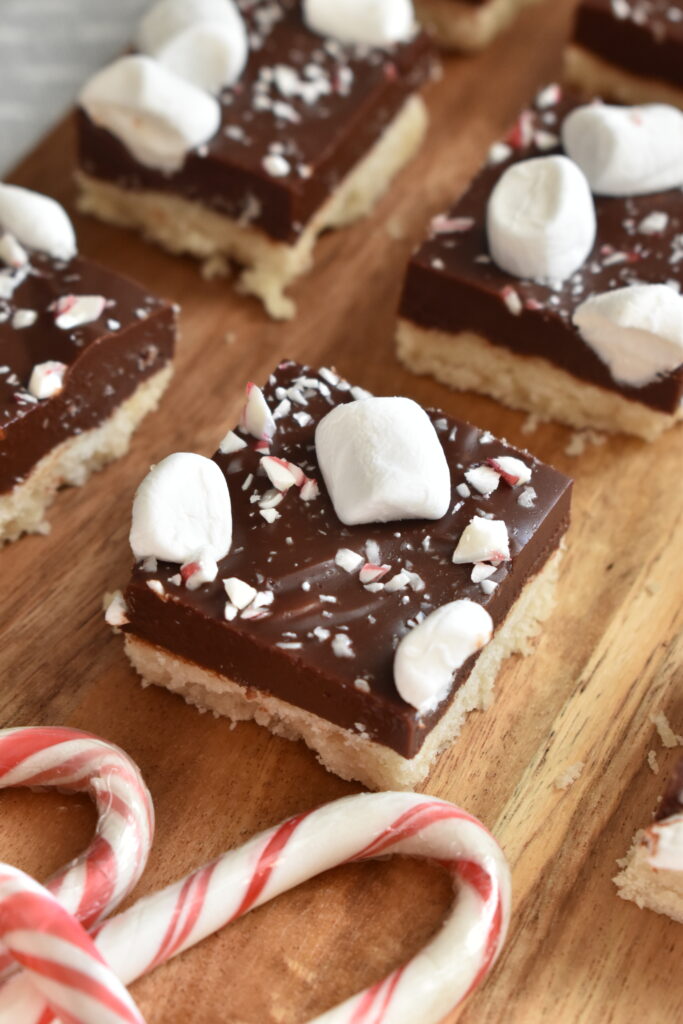 Notes
Before baking the shortbread layer, be sure to use a fork to poke holes in the dough, otherwise you might just end up with a big cookie bubble in your crust.
When smashing your candy canes, use a ziplock bag or fold a parchment sheet around the candy canes before crushing them. If you use parchment, be sure that you fold it well and don't leave any open edges for the candy to come flying out of when hammering away… Also, watch your fingers – ouch!
Marshmallows aren't typically vegan since they contain gelatin, however vegan marshmallows are becoming more popular and can often be found at the big grocery stores and health food stores. I used Dandies Miniature Vanilla Flavored Vegan Marshmallows for this recipe for Vegan Shortbread Fudge Christmas Squares with Candy Canes and Marshamallows.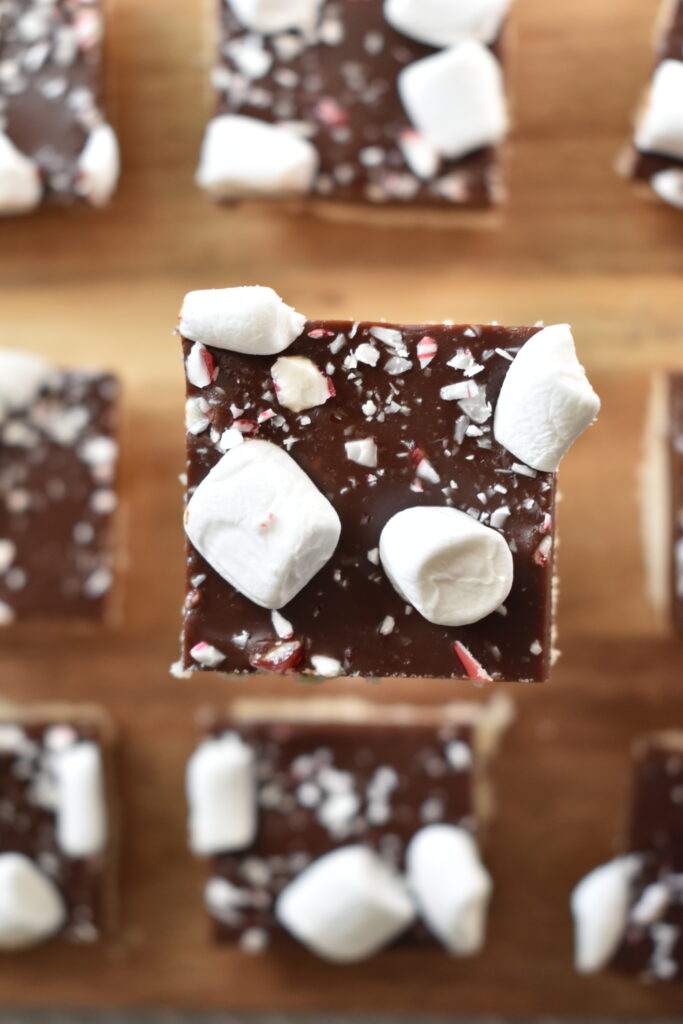 Vegan Shortbread Squares with Fudge, Candy Canes and Vegan Marshmallows are:
Perfect vegan-friendly dessert for Christmas
Vegan
Egg-Free
Dairy Free
Sweet & Delicious
Yield: 12 Squares
Vegan Shortbread Fudge Christmas Squares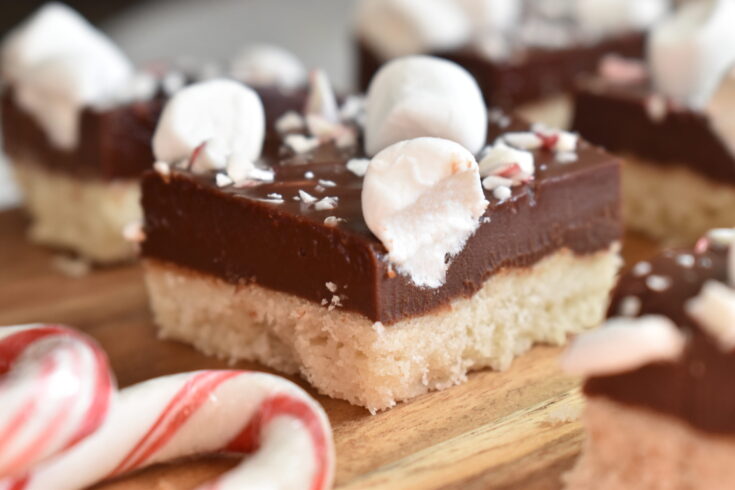 This vegan Christmas dessert recipe is made with a layer of vegan shortbread, dairy-free fudge, candy canes and vegan marshmallows.
Total Time
2 hours
45 minutes
Ingredients
Shortbread Layer
1/2 Cup Vegetable Shortening
1/2 tsp Vanilla
1/4 Cup Sugar
1/4 Cup Powdered Sugar
3/4 Cup Flour
Chocolate Fudge Layer
2/3 Cup Sweetened Condensed Coconut Milk
1 Cup Semi-Sweet or Dark Chocolate Chips
1/2 tsp Vanilla
Toppings
1/2 Cup Dandies Mini Vegan Marshmallows
3 Mini Candy Canes
Instructions
Prepare Shortbread Layer:
Preheat the oven to 350°F
In a stand mixer, beat the vegetable shortening together with the vanilla, until smooth.
Add the sugar and powdered sugar, and mix until combined.
Add the flour, and mix on medium high speed until a smooth dough forms.
Press into a silicone or parchment lined 8" square baking pan.
Bake for 18 minutes, just until the edges start to turn light golden brown.
While the shortbread layer cools, prepare the chocolate fudge layer:
Stir the condensed coconut milk, chocolate chips, and vanilla together in a small saucepan. Heat over low heat, stirring often, for approximately 10 minutes, until the chocolate is all melted and smooth.
Place the candy canes in a folded up sheet of parchment paper or a ziplock bag, and use a heavy object to crush them. Set aside.
Pour the hot fudge over the shortbread layer.
Sprinkle with vegan marshmallows and crushed candy canes.
Refrigerate for 2 hours, or until the center is no longer soft and the chocolate has set.
Slice into squares.
Store in airtight container in the refrigerator or freezer.
Nutrition Information:
Yield:
12
Serving Size:
1
Amount Per Serving:
Calories:

260
Total Fat:

16g
Saturated Fat:

8g
Trans Fat:

0g
Unsaturated Fat:

6g
Cholesterol:

6mg
Sodium:

10mg
Carbohydrates:

28g
Fiber:

1g
Sugar:

18g
Protein:

2g