No-fuss ratatouille is about the easiest possible way to make ratatouille. No roasting or sautéing, and no cooking ingredients separately; just delicious vegetable stew with eggplant, zucchini, bell peppers, tomatoes and herbs. Ratatouille is classically a vegan, gluten-free, plant-based recipe that is great on it's own, and amazing on top of pasta, mashed potatoes or rice. This recipe uses a clay pot or a Dutch Oven to cook the stew in the oven rather than on the stove. This means that the only time you'll need to spend in the kitchen, is prepping the ingredients.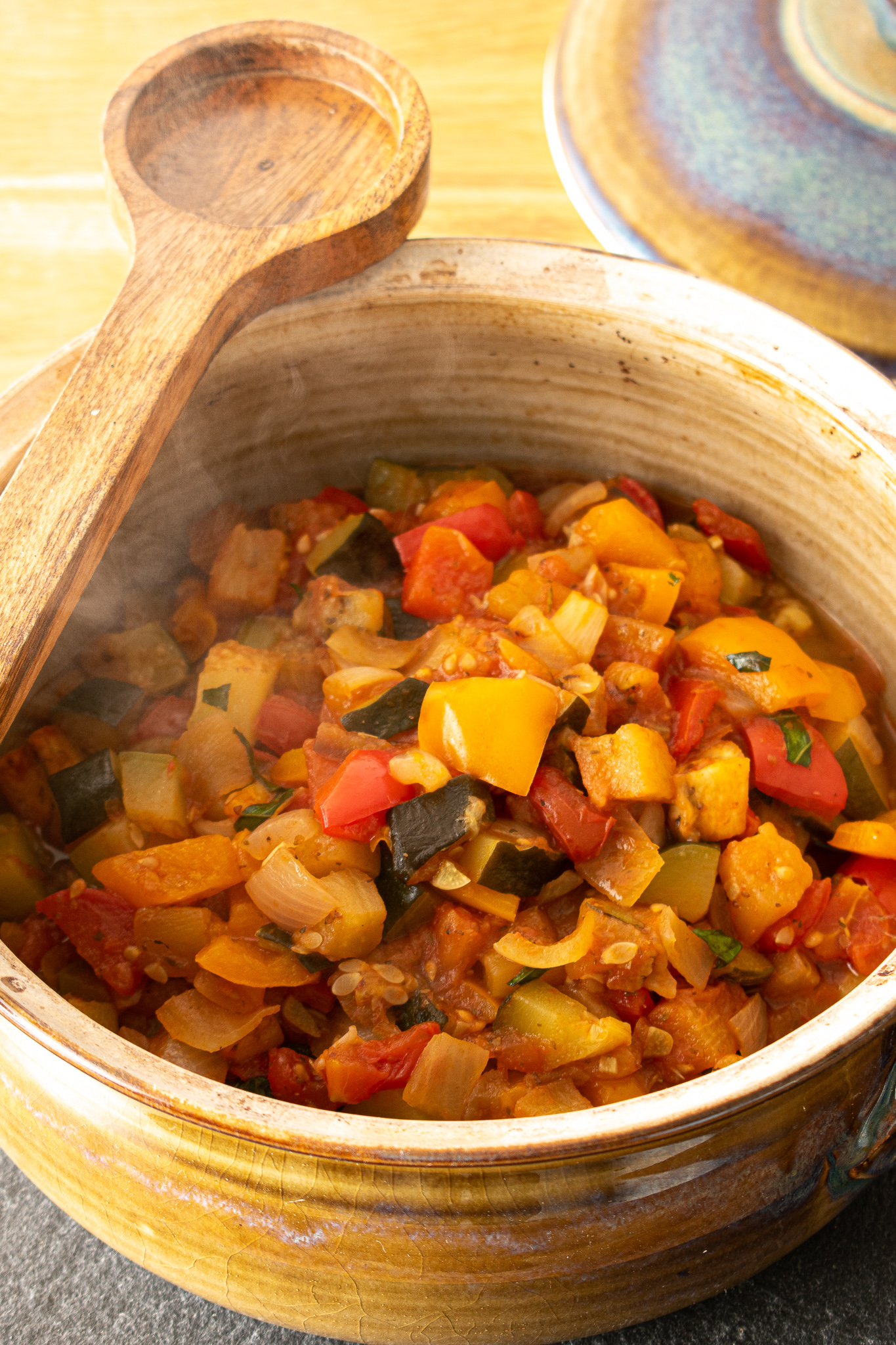 I've seen ratatouille made many different ways. Many classic traditional recipes will have you in the kitchen for ages, cooking all the ingredients separately before coming them together. Fancier versions often slice the vegetables thinly, and stack them together in a pan to roast and give you a beautiful finished product. (If you are looking for a "pretty" dish, with all of the vegetables sliced and arranged nicely, then try my other recipe, here.) This No Fuss, basic, simple ratatouille is an easy recipe with no extra steps and less time in the kitchen.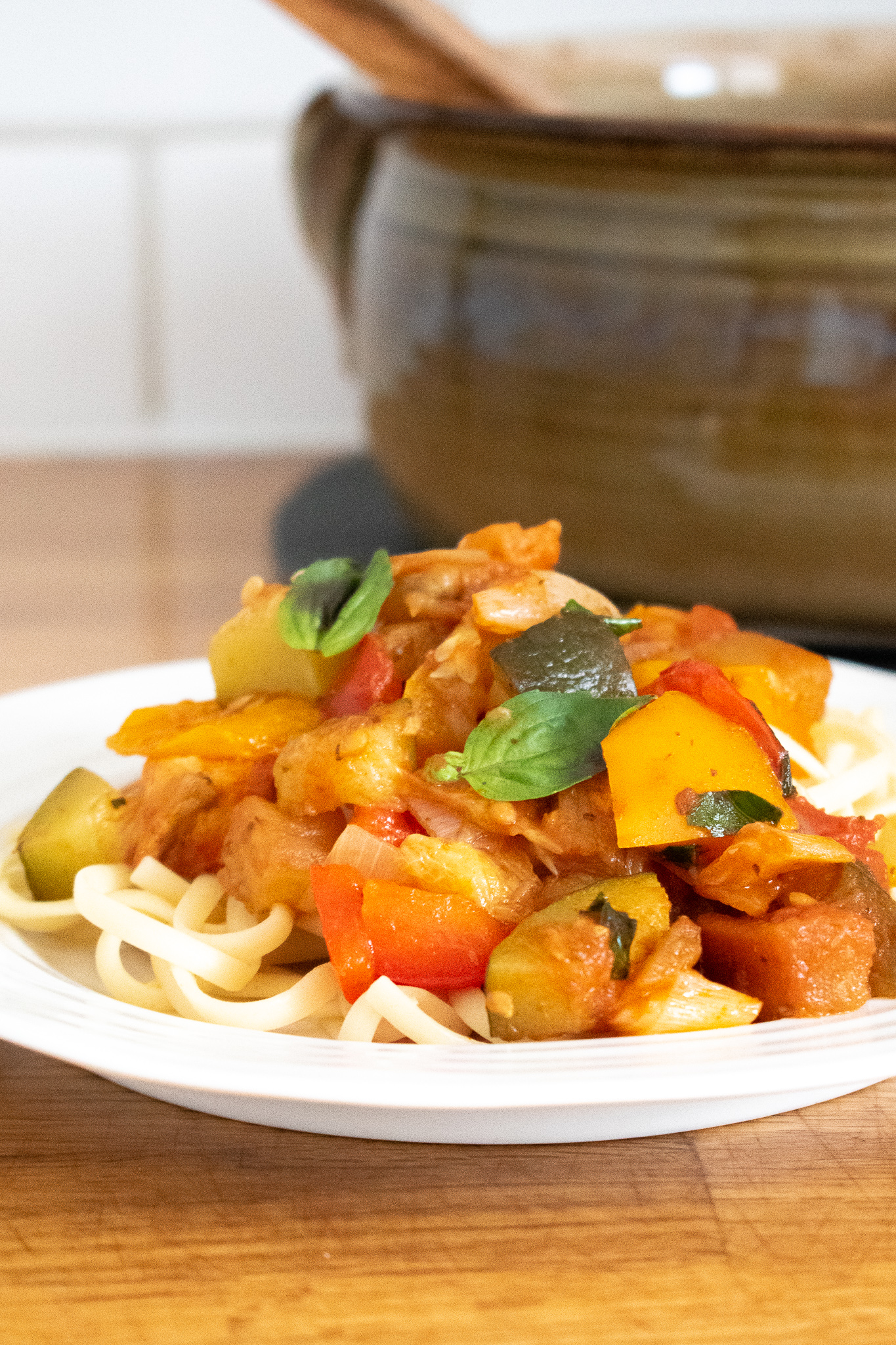 How to make Simple Ratatouille
To make this simple ratatouille dish, you will need to peel an eggplant. Cube the eggplant and a zucchini, dice a couple tomatoes and an onion, and mince about three cloves of garlic. Once you have prepped the ingredients, toss them all into a clay pot or a Dutch Oven, and stir them together with a dollop of tomato paste, some salt and oregano. Bake the pot with the lid on, at 375'F for about an hour. Once the vegetable stew is cooked, stir in some fresh chopped basil. Your ratatouille is now ready!
Yield: 4 Servings
No Fuss Ratatouille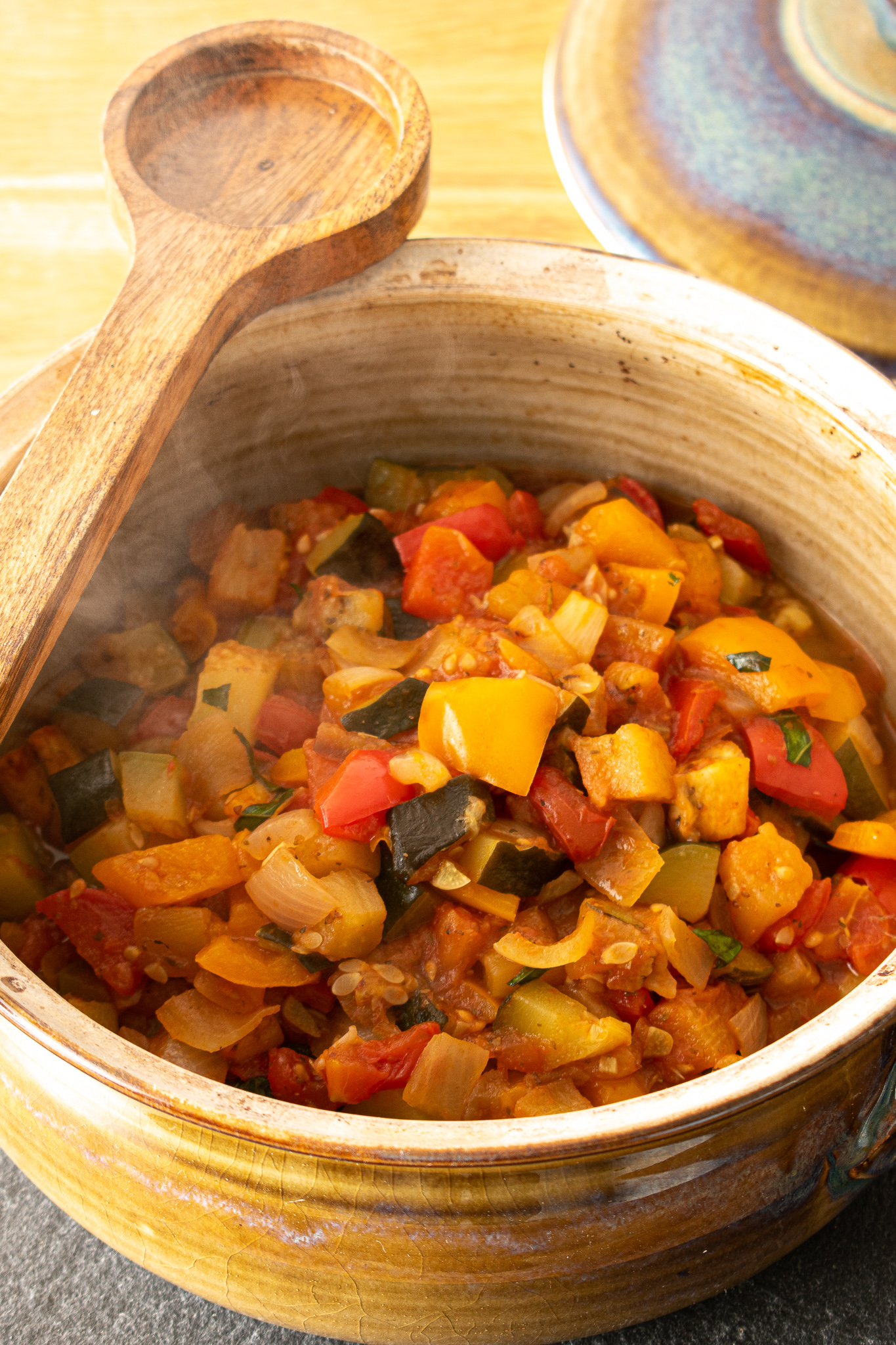 This No Fuss, Simple Ratatouille recipe makes a delicious, plant-based vegan, gluten-free, healthy vegetable stew, with minimal prep work and less time in the kitchen.
Total Time
1 hour
10 minutes
Ingredients
1 Tbsp Olive Oil
1 Onion
3 Garlic Cloves
1 Red Bell Pepper
1 Orange Bell Pepper
1 Zucchini
1 Eggplant
1 1/2 tsp Dried Oregano
1 1/2 tsp Salt
3 Tbsp Tomato Paste
2 Tomatoes
3 Large Basil Leaves, fresh
Instructions
Preheat the oven to 375°F
Prepare the vegetables: Peel and cube the eggplant. Dice the zucchini, bell peppers, tomatoes and onion. Mince the garlic.
In a Dutch Oven or a clay pot with a lid, add the olive oil, onions, garlic, bell peppers, zucchini, tomatoes, eggplant, and tomato paste. Sprinkle in the salt and oregano, and toss all of the ingredients together.
Bake the pot with the lid on, for 1 hour.
Chop the basil. Once the vegetables are all cooked through and simmering together, remove the pot from the oven, and stir in the basil. Serve hot.
Nutrition Information:
Yield:
4
Serving Size:
1
Amount Per Serving:
Calories:

139
Total Fat:

4g
Saturated Fat:

1g
Trans Fat:

0g
Unsaturated Fat:

3g
Cholesterol:

0mg
Sodium:

888mg
Carbohydrates:

26g
Fiber:

7g
Sugar:

12g
Protein:

4g